Iden in East Sussex sits on a hill overlooking the Marshes of the Rother Levels and stands about 2 miles north of Rye on the B2082.

In 1284 Edmund de Paseley, with the blessing of Edward I, built a castellated house surrounded by a moat. It was to become the home of Alexander Iden the Sheriff of Kent in the 15th century. In 1450 he captured and killed Jack Cade (see also Cade Street ), who led the Kentish Rebellion against Henry VI. Unfortunately all that remains of the 'castle' today is the gateway, but the lines of the moat can still be seen.

All Saints Church can be found up a lane off the main road, it has a castellated bell tower which dates from the 11th Century. It has seen several restoration projects over the years, and unlike most churches has been made smaller, not larger. During the 117 years from 1807 to 1924 the church had only 2 rectors, and for this it gets mentioned in the Guiness Book of Records.

Iden's oldest house stands at the northern end of the village. It is a 15th century timber-framed hall house, called Oxenbridge, probably named after the Oxenbridge family of Brede .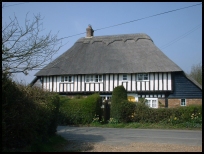 Iden in East Sussex is a pretty village, and the area near the church has a number of old timbered buildings.

Next to the church lies the cricket ground, which is one of the nicest in the area, surrounded by trees with the sound of willow on leather on a hot summer Sunday it's the ideal place to relax.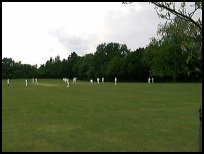 The village has limited services as you would expect from a small village.

The main shopping town is Rye just down the road, and a large supermarket can be found at Peasmarsh .

The nearest trains run from Rye station, with hourly services to Hastings and Ashford .
Iden is shown as the red symbol on the map.

Nearby Villages
(click on symbol to see the village page)
Appledore
(Danes invade England)
4.28 miles
Beckley
(Alfred the Great and Guns !)
3.99 miles
Brede
(Edward I inspects the Channel Fleet)
6.66 miles
Brenzett
(St Eanswyth a saxon princess)
5.72 miles
Broad Oak Brede
(On the Crossroads)
6.25 miles
Brookland
(13th century wooden spire)
4.72 miles
Broomhill
(Swept away by the Storm)
5.10 miles
Camber
(Sands and Holidays)
4.28 miles
East Guldeford
(Barn-like Church)
1.97 miles
Fairfield
(The Isolated Church)
3.33 miles
Newenden
(Alfred the Great's Fort)
5.58 miles
Northiam
(Prime Ministers D Day inspection)
5.78 miles
Peasmarsh
(Black Death moves village)
2.32 miles
Playden
(Saltcote and fish)
1.01 miles
Rye
(On the Island)
2.32 miles
Rye Harbour
(Nature Reserve and unspoilt beaches)
3.39 miles
Smallhythe
(The Ellen Terry Museum)
4.08 miles
Snargate
(Sluice Gates made by Royal Order)
5.49 miles
Snave
(the Remote church)
7.06 miles
Stone in Oxney
(Roman stone altar)
2.80 miles
Udimore
(Angels move the Church)
4.52 miles
Winchelsea
(Inland Cinque Port !!)
4.12 miles
Wittersham
(Park your Airship here ?)
2.29 miles